Hiring Hand Sanitiser Stands For My Large Event
When organising any large event, it is important to ensure adequate facilities for your attendees and staff. Thistle Loos specialise in a wide range of services for large events, such as festivals, music concerts, and weddings.
Besides portable toilet hire, Thistle also provides hand sanitiser stations to reduce the transmission of viruses and keep people safe. These help to maintain high levels of personal hygiene, especially when used alongside other measures.
Why Every Event Needs A Hand Sanitiser Station
If you expect your event to receive high footfall, sanitisers are recommended to combat the risk of Covid-19 and other viruses.
One of the key benefits of installing hand sanitisers at your event is to counteract a lack of readily available soap and water (e.g. during carnivals and street festivals).
But for these sanitisers to be effective, the alcohol content must be 60% to 70% proof to reduce transmission for attendees and staff. This formula kills 99.9% of viruses — including Covid-19.
There are several other advantages to sanitising stations:
● Research suggests that around 80% of virus transmission is due to touching contaminated surfaces. Sanitisers ensure a large proportion of event attendees have clean hands and reduce cross-contamination.
● Most large events have multiple food preparation areas. And often these are away from washrooms. Hand sanitisers offer increased food hygiene, helping to keep customers safe and meet health and safety obligations.
● Multiple hand sanitising stations give event visitors and staff peace of mind. For those who are concerned about the threat of coronavirus, sanitisers can attract extra guests and keep them longer at events.
● Some event locations lack a readily available supply of soap and water. When soap and water are not available in every location (e.g. at street festivals away from bathrooms), hand sanitisers offer a viable alternative.
●     Portable hand sanitisers allow you to place stations at any location you need, both indoors and outdoors. Position them at key strategic locations to ensure maximum coverage throughout your entire venue.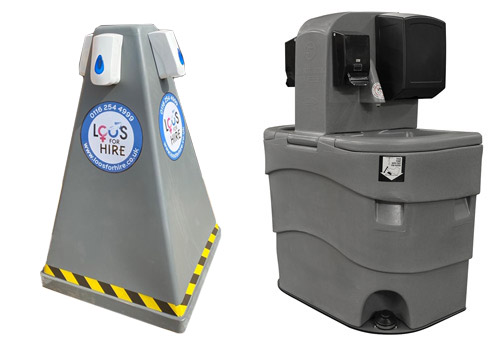 How Many Hand Sanitiser Stands Do I Need?
The number of hand sanitising stands you might need depends on multiple factors, such as the number of guests, the size of the venue, and the layout of your premises.
For large events like festivals and street carnivals, several hand sanitisers will likely be required at various locations, particularly around entrances and food preparation areas.
Consider the level of footfall you expect to receive and then base the total number of hand sanitiser stations around this.
Hiring Hand Sanitiser Stands!
Thistle Loos can help your event to run hygienically and safely with short and long-term rental of hand sanitiser stands.
If you want to keep your event guests and staff safe, especially if there is a lack of soap and water, alcohol sanitisers are highly effective. Not only do they give attendees peace of mind and reduce up to 99.9% of bacteria, but they are also affordable and allow you to place stations throughout your venue both indoors and outdoors. Contact us today for a quote.